You won't find a menu of exotic treatments here. We only offer one product: results-based therapeutic massage to help people to feel better and move more freely. All our staff train together in the art and science of effective bodywork. You can be assured that no matter who you see and every time you visit, you'll be in the hands of a highly knowledgeable and attentive professional.
Your appointment begins with a quick discussion with your therapist about your objectives, whether it's general relief from aches and pains, relaxation of something more specific like help with migraines, TMD or sciatic pain.
Add on treatments like "Deep Heat" with professional grade hydrocollator packs to melt tension, aromatherapy with hand crafted subtle and safe jojoba-based blends and topical treatment with Biofreeze gel to ease chronic pain are always free of charge.
A word about pressure: Your therapist will check in appropriately during your massage to make sure that you are comfortable and getting the work that's right for your body. Like most endeavors, the best results in massage are achieved when there is good communication, and we encourage you to ask questions or give direction during your session.
Every therapist at Deep Roots is familiar with self-care manual techniques and can make recommendations to help you continue specific work on problem areas in-between visits. Be sure to ask about what you can do yourself if you are interested.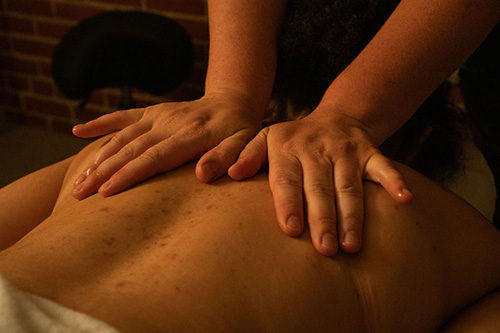 Hydrotherapy (heat packs) and aromatherapy are complimentary. Ask your therapist for more information.
There is no extra charge for prenatal massage.
Members get special pricing for massage and gift certificates along with other benefits by subscribing to regular massage. There's no catch! Click the "membership" tab in the header above or call us at 603-352-0734 to learn more!